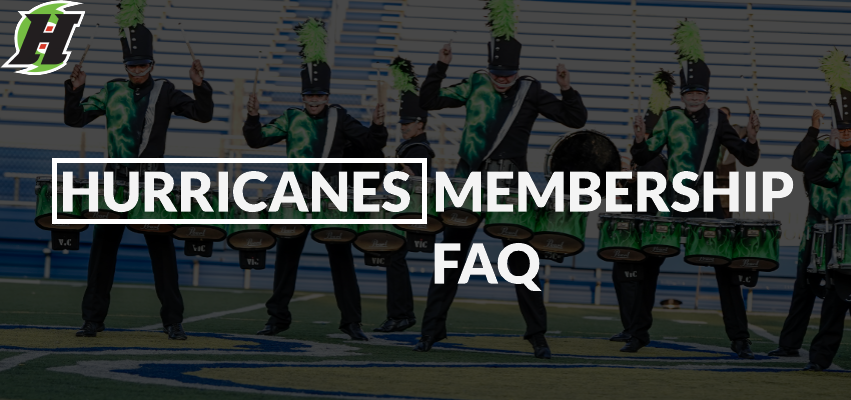 Many of you have questions about Open House and Membership. Here are some commonly asked questions and answers.

What safety precautions are in place for the 2021 season?
Safety is our #1 priority this year. We believe that we can safely offer a fun and rewarding membership experience while keeping everyone safe.

-Masks and physical distancing will be required of all participants, staff and spectators.
-No buses or overnight hotel stays
-Members will need to submit a health questionnaire prior to each rehearsal and a temperature check at arrival
-To avoid crowding in the parking lot, there will be a sign up stating where each section is to report for the start of rehearsal.
-Sanitation station for each section including: hand sanitizer, cleaning wipes, garbage bag, and extra masks
-Any informational meetings will take place with members spread out
-Additional guidelines specific to each section will be provided to members at our first outdoor rehearsal.

All of our competitions will take place in a virtual format where we submit a video recording to DCA for their weekly broadcast.
We are beginning the season with Saturdays only to discourage members from staying overnight. If conditions allow, we are planning to add Sundays back in for July and August.

We are planning to participate in local performances and parades as state and federal guidelines allow. All staff and members will have mandatory training on what is expected of them. Everyone needs to commit to following these guidelines so we can safely resume and enjoy the activity we love.
What if I am unable to attend Open House?
Every effort should be made to attend the Open House. If this is not possible, you are welcome to attend the following camp to meet the staff and experience what the Hurricanes are all about.

What should I bring to winter rehearsals?
Everyone should wear comfortable athletic clothing, sneakers and have a water bottle. Lunch will be provided. If you have dietary restrictions, you may want to consider bringing your own lunch. Musicians should bring a binder with their section's warmup packet.
Do I have to bring my own instrument/equipment?
The Hurricanes have instruments available. However, attendance is expected to be high, so if you are a brass player and have an instrument and mouthpiece, please bring it. Percussion applicants should bring sticks/mallets, and a drum pad. Guard members planning to audition on weapon should bring their own.

What is the typical schedule for a camp?
8:30 a.m. – Registration
9:00 a.m. – Block #1
12:00 p.m. – Lunch
12:45 p.m. – Block #2
4:00 p.m. – End of day meeting/Clean up
4:30 PM – Dismissal

What positions are available?
All positions are open. Returning members must be in good standing (all fees from previous years paid up to date, no disciplinary actions, positive contributor in the years he/she marched).

BEING A MEMBER OF HURRICANES
Are auditions only held at the Open House?
No. As a matter of fact, our open house is not an audition. It is a day to experience what being a Hurricane is all about. Auditions are covered over the course of several rehearsals for brass, percussion, and front ensemble. Caption Heads will share more information at open house.
The color guard typically has a ONE DAY audition opportunity at the conclusion of the indoor season, later in April.

How much does being a member cost?
Tuition for the 2021 season will be $750. Tuition fees pay for: Instruction, rehearsal facilities, equipment/uniform, meals at winter rehearsals, and ONE pair of gloves for brass members. There are other costs associated with membership: Marching shoes, socks, guard uniform, guard footwear, additional pairs of gloves, rehearsal weekend meals, and sectional gear.
There is a required fundraiser members are required to participate in. There will be a cash raffle with prizes of $3000, $1000, $500 and $500. Members will be required to sell 10 $10 tickets. Anything sold above that will earn $5 per ticket towards membership dues.
All members are expected to meet the financial commitment as described in the membership contract. Payments must be made in a timely manner. Fundraisers and sponsorship forms are available to assist members in meeting their financial obligations.

Are Scholarships available?
At this time there are no scholarships available. In the event that scholarship monies do become available to award, you will be informed of these opportunities. All members should plan accordingly and not wait for scholarship availability in the event it does not happen for the 2020 season.

What is the sponsorship program?
The sponsorship program is a great way for members to raise money towards their tuition. 100% of monies generated from this program will be applied to their account. We provide members with a sponsorship letter that can be shared with family, friends, and community members about their upcoming drum corps experience.

More information about the sponsorship program will be provided to members along with their membership contract paperwork.

What should I expect during the auditions and how is a position offered?
During the audition phase, you will learn about what it takes to be a member of the Hurricanes: time commitment, costs, season schedule, and our expectations for preparation will be discussed. Staff members will discuss and work with you on what is expected for you to continue as a member of the Hurricanes. You will spend time in ensemble, sub section settings and one on one time with staff as needed to help you develop the skills necessary to be successful.

Positions will be awarded not just to the most talented, but to the people who demonstrate a strong effort and desire for achieving excellence. Your commitment level, communication, personal and financial responsibility, and attitude are given primary consideration in the selection process. Your talent, skills, growth, and improvement will also play a key factor in placement; however, if you are willing to learn, we are willing to teach and our staff will place members accordingly.

What is the schedule for the 2020 season?
The schedule will be available at cthurricanes.org/schedule. We suggest you sync the calendar with your phone using the instructions above the calendar.

​What do I do if I have conflicts?
We understand that there may be conflicts and we will work with you. Conflicts that we deem acceptable are academic and performance related. Once school is over and winter performance commitments are complete, 100% attendance is expected. All conflicts should be communicated to your caption head and the personnel director prior to signing a member contract.

Your best chance of making the corps will depend on your attendance. When you fail to attend a camp and haven't communicated in advance, we assume that you do not wish to be a part of the corps.
What if I am in a Winter Guard, Winter Percussion Ensemble or if I have a school conflict?
You can still be a Hurricane! Many of our members are involved in winter activity and school programs, and we understand the commitments of those schedules. We do expect your attendance during weekends you do not have a winter performance commitment or audition/performance with your school. Just make sure to tell your caption head and the personnel director.

What is the age requirement?
The average age range of the Hurricanes is 16 – 30. While we do not have a firm age limit, membership for anyone under age 15 will require a brief meeting with the member's parent, the corps director and a staff member from their section to ensure the member is mature and responsible enough to handle the demands of being in a drum corps.

Are there volunteer opportunities? Can my parents get involved?
Absolutely! Volunteers are essential to our success. Volunteers help with cooking, sewing, uniforms, transportation, and general needs. More information will be provided at Open House.

Who do I contact with questions?
For registration related questions, please contact:
Jess Lyons: jlyons923@gmail.com

For organizational questions such as tuition, expectations, scheduling and general questions:
For section related questions, please contact:
Thank you for your interest in joining the Hurricanes. We hope to meet you soon!