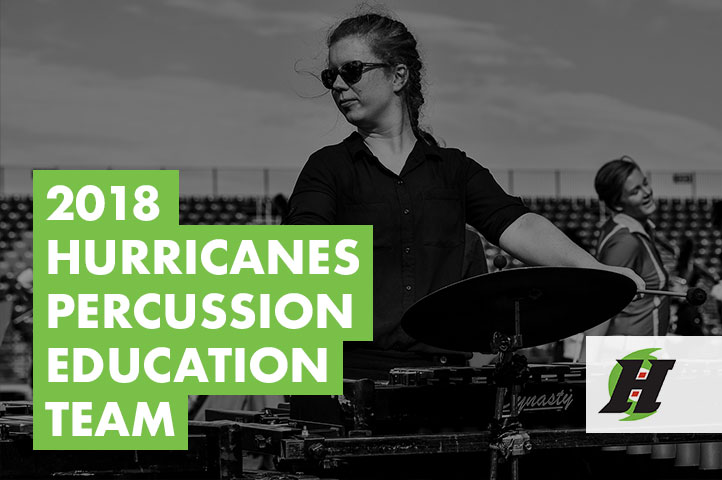 2019 Percussion Education Team
The CT Hurricanes are excited to announce our 2019 Percussion Education Team. 
Percussion Caption Head – Tony Gamble 
Battery Coordinator – Ricky Cherry
Snare Technician – AJ Rittenhouse
Tenor Technician – Anthony Davis
Front Ensemble Technician – Lernard Brand-Cook
Tony Gamble – Percussion Caption Head
Anthony "Tony" Gamble is an accomplished musician having studied music for 20+ years, most specifically as a drummer & percussionist. He is a seasoned performer with expertise across marching percussion, concert percussion and drum set. Most notably, however, Tony is a dedicated educator with 16+ years of teaching & arranging experience under his belt across all levels from Middle School to World Class. He has been a Vic Firth Education Team Member since 2009.
A graduate of Brien McMahon HS, he studied Music Education at Western Connecticut State University under David Smith.
Tony's teaching and arranging experience includes Brien McMahon High School, Westhill High School, Stamford High School, Connecticut Hurricanes, Palm Beach Central High School, Wellington High School, Wellington Landing Middle School, Emerald Cove Middle, Santaluces High School, and Stryke Indoor Percussion (WGI World Class Finalist).
Tony's marching and performing experience includes Sunrisers Drum & Bugle Corps (DCA), Crossmen Drum & Bugle Corps (DCI), Connecticut Hurricanes Drum & Bugle Corps (DCA), Syracuse Brigadiers Drum & Bugle Corps (DCA), and United Percussion (WGI).
Additionally, Tony teaches private lessons, volunteers in the community teaching younger drummers, and lends his time to playing drums in church. He currently resides in Norwalk, CT.
Ricky Cherry – Battery Coordinator
Ricky Cherry is excited to return for his second consecutive year as battery coordinator. He was a member of  the Connecticut Hurricanes from 2009 through 2014 and served as an in-line technician in 2014. He was a member with United Percussion in 2012 and the Cadets2 in 2015.  He was on the instructional staff at Cadets2 in 2016 (winners of the DCA High Percussion Award & World Championship) and 2017.
Ricky has been involved with Connecticut-area high schools since 2008. He has worked with Brien McMahon High School, Shelton High School and Westhill High School. He is currently the Bass Drum Technician at Norwalk High School, a position he has held since 2013. Norwalk Percussion earned back-to-back WGI Percussion Scholastic Open titles in 2014 and 2015.  He's currently in his 4th year at Stamford High School, and his 3rd as Battery Coordinator.
Ricky is currently employed by Ventus Networks and Resides in Norwalk, Connecticut.
AJ Rittenhouse – Snare Technician
AJ Rittenhouse began his marching career at Maloney High School in Meriden, CT where he was a member of the marching band for four years, serving as section leader of the drumline for the last two. He is a senior at the University of New Haven where he studies Cyber Systems and has been a member of the marching band for five seasons, serving as percussion section leader in 2016.
He began his drum corps career as a snare drummer for Fusion Core in 2015. In 2016 and 2017 he marched for Cadets2, winning the DCA Championship and the High Percussion Award in the 2016 season.
He currently serves as a percussion instructor at Maloney High School, a position that he has held for four years. He is excited to be joining the staff at the Hurricanes and looks forward to the great season ahead! 
Anthony Davis – Tenor Technician
Anthony Davis, from Norwalk, CT, entered the marching arts world in 2004 with the Brien McMahon High School Marching Senators. He marched with the CT Hurricanes on tenors from 2009-2011 as a snare drummer with Cadets2 in 2015. 
After graduating from high school in 2008, Anthony worked as a battery technician at Brien McMahon High School from 2008-2013, and in 2014 became the Percussion Caption Head.  In 2016, Anthony joined the Westhill High School winter percussion as a tenor technician. During this same time period, Anthony & his team at Brien McMahon were putting together a brand new winter percussion ensemble. After completing a successful first season, the group is moving in a positive direction. In 2017, Anthony will be with the Stamford High School winter percussion ensemble as a tenor technician, while continuing to build and develop the winter percussion ensemble at Brien McMahon. 
Anthony is very excited to be working with such a great program and is looking forward to giving his all to help develop the percussion ensemble and the entire Hurricanes organization. 
Lernard Brand-Cook – Front Ensemble Technician
Lernard graduated from Stamford High School in 2013.  That same year he joined the Hurricanes playing marimba.  Lernard remained as a member of the Hurricanes for four seasons on both the bass line and in the front ensemble.  He has taught at several high schools in the area including Brookfield High School and Brien McMahon High School. Lernard currently teach at Lyman Hall High School and Shelton High school.  He is excited to serve as the front ensemble instructor for the 2019 season.