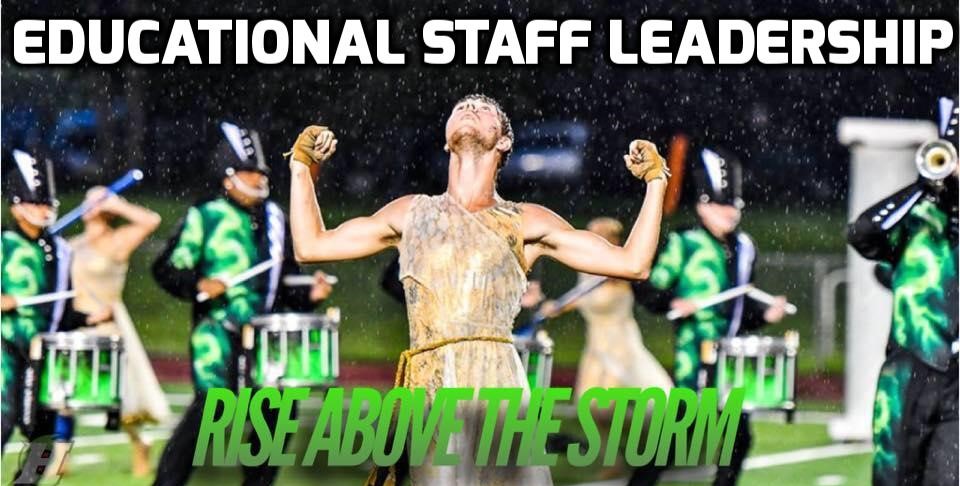 2019 Educational Staff Leadership Announced!
The Connecticut Hurricanes Drum and Bugle Corps is pleased to announce the 2019 Educational Staff Leadership Team.


Percussion Caption Head: Tony Gamble
Battery Coordinator: Ricky Cherry
Brass Caption Head: Manny Arboleda
Guard Caption Head: Brittany Gordon
Visual Caption Head: Ricky Grasso
This team will build on the success the Hurricanes saw in 2018.  All of these educators were on the Hurricanes instructional staff in 2018 and we are excited to see many returning in familiar roles, and several stepping up into larger roles.
We are hosting an Open House Rehearsal on Sunday, November 25, 2018 from 8:30 AM to 4 PM at Amity High School, 25 Newton Road, Woodbridge, CT. We are an all-age drum and bugle corps welcoming members in all sections: brass, percussion and color guard.  
For further information visit online at www.cthurricanes.org/join or call/text at (203) 892-5104.  
Tony Gamble – Percussion Caption Head

Anthony "Tony" Gamble is an accomplished musician having studied music for 20+ years, most specifically as a drummer & percussionist. He is a seasoned performer with expertise across marching percussion, concert percussion and drum set. Most notably, however, Tony is a dedicated educator with 16+ years of teaching & arranging experience under his belt across all levels from Middle School to World Class. He has been a Vic Firth Education Team Member since 2009.
A graduate of Brien McMahon HS, he studied Music Education at Western Connecticut State University under David Smith.
Tony's teaching and arranging experience includes Brien McMahon High School, Westhill High School, Stamford High School, Connecticut Hurricanes, Palm Beach Central High School, Wellington High School, Wellington Landing Middle School, Emerald Cove Middle, Santaluces High School, and Stryke Indoor Percussion (WGI World Class Finalist).
Tony's marching and performing experience includes Sunrisers Drum & Bugle Corps (DCA), Crossmen Drum & Bugle Corps (DCI), Connecticut Hurricanes Drum & Bugle Corps (DCA), Syracuse Brigadiers Drum & Bugle Corps (DCA), and United Percussion (WGI).
Additionally, Tony teaches private lessons, volunteers in the community teaching younger drummers, and lends his time to playing drums in church. He currently resides in Norwalk, CT.
Ricky Cherry – Battery Coordinator
Ricky Cherry is excited to return for his second consecutive year as battery coordinator. He was a member of  the Connecticut Hurricanes from 2009 through 2014 and served as an in-line technician in 2014. He was a member with United Percussion in 2012 and the Cadets2 in 2015.  He was on the instructional staff at Cadets2 in 2016 (winners of the DCA High Percussion Award & World Championship) and 2017.

Ricky has been involved with Connecticut-area high schools since 2008. He has worked with Brien McMahon High School, Shelton High School and Westhill High School. He is currently the Bass Drum Technician at Norwalk High School, a position he has held since 2013. Norwalk Percussion earned back-to-back WGI Percussion Scholastic Open titles in 2014 and 2015.  He's currently in his 4th year at Stamford High School, and his 3rd as Battery Coordinator.

Ricky is currently employed by Ventus Networks and Resides in Norwalk, Conn
Manny Arboleda – Brass Caption Head
Manny Arboleda is a full-time high school music teacher in Bethel, CT. He graduated from Western Connecticut State University (WCSU) with a Bachelor of Science in Music Education and a Master's Degree in Music Education.  He is currently pursuing a six-year certificate in Educational Leadership and plans to pursue doctoral studies at Southern Connecticut State University.
Manny marched trumpet with the Hurricanes in 2011, and went on to march trumpet for three years with The Cadets in 2012, 2013 and 2014. Manny has also spent six years teaching local marching bands, including the University of New Haven Chargers Marching Band, Bethel, Naugatuck High School, Danbury High School, and Shelton High School. He also started a SoundSport indoor marching program for grades 6-8 in Naugatuck, which saw membership increase over 300% in four seasons!
Brittany Gordon – Color Guard Caption Head
Brittany began her color guard career starting at Brien McMahon High School in 2006. Upon graduation, she joined the CT Hurricanes as a marching member of the Color Guard ('10,'11,'13,'14). She has also performed with Alter Ego Independent World Color Guard ('12, '15, '16, and '18). Following her time marching with the CT Hurricanes she then became a member of the color guard staff as a Writer & Technician ('15-'18). She also has been involved with Amity High School as a color guard Writer/Technician/Designer ('11,'12,'13,'14,'15,'16,'17-present). Brittany has always enjoyed performing and the skills that color guard has taught her.

In 2015 Brittany obtained her Bachelors Degree in Interactive Marketing from Western Connecticut State University and currently resides in Norwalk, CT.
Ricky Grasso – Visual Caption Head
Ricky Grasso is a Marketing Manager for a global technology company in Cheshire, CT. He recently graduated with his Master's in Business Administration with a Marketing focus from the University of Bridgeport in May of 2018 and currently resides in Newtown, CT.
Ricky marched trumpet with the Hurricanes in 2011 & 2012, and went on to march trumpet for the Blue Knights in 2014. Since then, Ricky has served on the Blue Knights administrative staff since 2015, and the Tour Director role in 2016, 2017, and 2018. On a local level, Ricky has been teaching high school marching bands, winter guards, and winter percussions for multiple ensembles for over seven years. Since the winter of 2016, he has been the Visual Caption Head & Head of Overall Design for the Newtown High School Marching Band Program and the Newtown High School Winter Percussion Program.
Ricky is very excited to return to the Hurricanes and educate the talented members this region of the country has to offer. Additionally, the staff is full of positive, welcoming, and hardworking individuals who want nothing but the best for the Hurricanes.