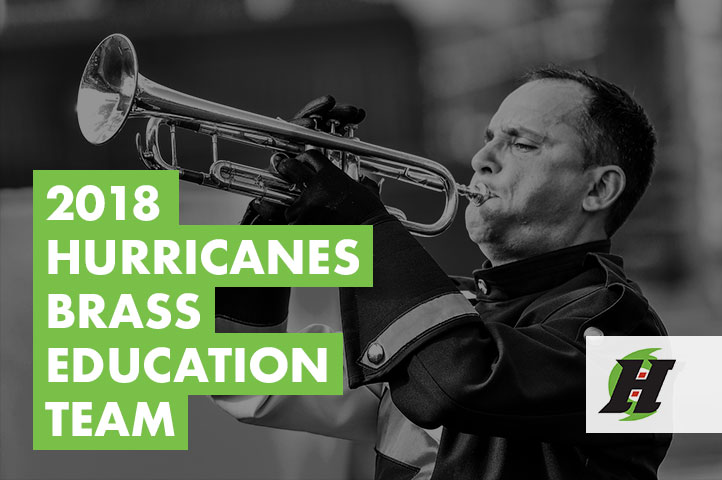 2019 Brass Education Team
The CT Hurricanes are excited to announce our 2019 Brass Education Team.
Brass Caption Head – Manny Arboleda
Brass Technician – Brendan Michalko
Brass Technician – Ted Adams
Brass Technician – Matt Piros
Manny Arboleda – Brass Caption Head
Manny Arboleda is a full-time high school music teacher in Bethel, CT. He graduated from Western Connecticut State University (WCSU) with a Bachelor of Science in Music Education and a Master's Degree in Music Education.  He is currently pursuing a six-year certificate in Educational Leadership and plans to pursue doctoral studies at Southern Connecticut State University.
Manny marched trumpet with the Hurricanes in 2011, and went on to march trumpet for three years with The Cadets in 2012, 2013 and 2014. Manny has also spent more than six years teaching local marching bands, including the University of New Haven Chargers Marching Band, Bethel, Naugatuck High School, Danbury High School, and Shelton High School. He also started a SoundSport indoor marching program for grades 6-8 in Naugatuck, which saw membership increase over 300% in four seasons!
Brendan Michalko – Brass Technician
Brendan Michalko is a graduate of The Sunderman Conservatory at Gettysburg College where he earned a Bachelor of Science degree in Music Education. While at Gettysburg College, Brendan played trumpet and mellophone in the Bullets Marching Band. He has also received his Master's Degree in Music Education from Western Connecticut State University.
Brendan serves as the Assistant Band Director and Brass Technician with the Westhill High School Marching Band and is a full-time music teacher in Stamford Public Schools.
Brendan is looking forward to starting his third season with the Hurricanes!
Ted Adams – Brass Technician
Mr. Adams has performed regularly throughout the Northeastern and Midwestern United States for the past 20 years. His performance credits include orchestras, jazz ensembles, chamber music, solo recitals, and recording sessions. Recently Mr. Adams has performed with the Rhode Island Philharmonic, US Coast Guard Jazz Band, Norwalk Symphony, and recorded with the Albany Symphony.
As an educator Mr. Adams is currently the Director of Bands at Danbury High School, in Danbury, CT. During his time there the marching programs have seen an increase in competitive quality and the return of winter programs. Danbury High School is among the first schools in the Northeast to put a Winter Winds ensemble out. Prior to this, Mr. Adams was the athletic band director at Quinnipiac University from 2007-2010.
Mr. Adams holds both a bachelor's degree from Manhattan School of Music where he studied with Steve Norrell of the Metropolitan Opera Orchestra. His graduate studies were done at SUNY Purchase and Mannes College of Music where he had the opportunity to study with James Markey of the Boston Symphony and world renowned soloist Dave Taylor.
Matt Piros
This will be 
Matt
's 7th season with the Hurricanes, he played euphonium and mellophone during the 2013-2016 seasons before serving as drum major for the 2017 and 2018 seasons. He has taught for the Trumbull High School Marching Band and currently runs the visual and brass program at Naugatuck High School's Marching Band.
Matt
 has been a instrumental, general, and choral music teacher at Andover Elementary School in Andover, CT for the past six years. He serves as director for two choruses, two concert bands, and a jazz band. During his spare time, 
Matt
 plays trombone for the Hartford Hot Several Brass Band and is an avid cyclist.  
Matt
 holds a Bachelors of Arts in Music from Trinity College, a Masters of Science in Education from the University of New Haven, and completed a 6th Year Diploma in Educational Administration from UConn in May 2018.