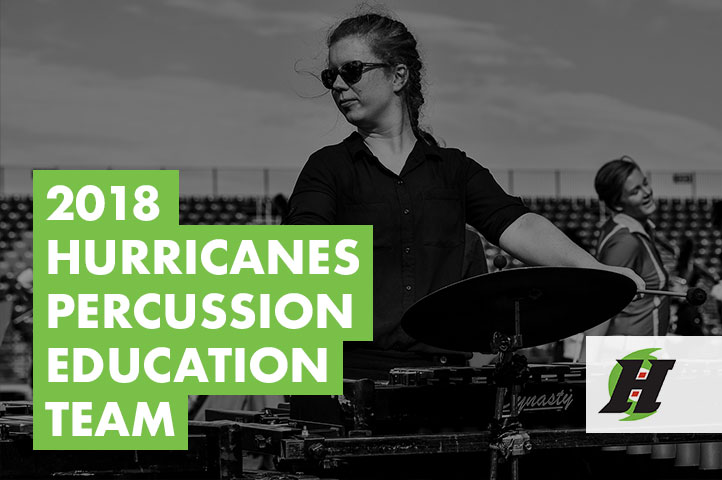 2018 Percussion Education Team
The CT Hurricanes are excited to announce our 2018 Percussion Education Team. 
Percussion Caption Head – Tony Gamble 
Battery Coordinator – Ricky Cherry
Snare Technician – AJ Rittenhouse
Tenor Technician – Anthony Davis
Bass Technician – Isaiah Ojeda 
Front Ensemble Technician – Kristen Morgan
Front Ensemble Technician – E. Scott Hiser 
Executive Director Brian Maroldt said, "We're very excited to be retaining most of our 2017 Percussion Staff, and we've made some very strong additions. We're confident this team will continue to enhance the educational experience of our members in 2018!"
We had a great turnout at Open House, but we encourage anyone interested in the 2018 Hurricanes to attend our next rehearsal on December 10 at Amity Regional High School in Woodbridge, CT. Head over to www.cthurricanes.org/JOIN for more information! 
Tony Gamble – Percussion Caption Head
Anthony '"Tony" Gamble is a devoted and acclaimed drummer who has been taught and instructed by many established and well-known educators.  He has used his skills and abilities to teach in the marching arts for 16 years.  He played in the drum section for Brien McMahon High from 1996-2000.  After graduation, he attended Western Connecticut State University and studied Music Education.  Tony marched with the Sunrisers in 1999 (DCA Finalist), the Crossmen in 2001 (DCI Finalist), the Hurricanes in 2002 (DCA Finalist), the Syracuse Brigadiers in 2003 (DCA Silver Medalist) and United Percussion in 2004 (WGI Finalist). 
As an instructor, arranger and/or caption head, Tony has taught many successful programs, including, Brien McMahon High School from 2000-2005, Westhill High School from 2001-2005, & 2015; Palm Beach Central High School (West Palm Beach, FL) from 2008-2013; Santaluces High School (Lantana, FL) from 2009-2012; Wellington High School, Wellington Landings Middle School & Emerald Cove Middle School (Wellington, FL) from 2011-2012; Stryke Indoor Percussion from 2005-2013; and Stamford High School in 2015.  The groups Tony has taught have won numerous awards/accolades including many local circuit percussion championships and WGI Finals appearances. 
Tony currently resides in Norwalk, CT where he teaches young drummers in the community and extend his services to local churches as needed. 
Ricky Cherry – Battery Coordinator
Ricky Cherry is excited to return to the Connecticut Hurricanes in 2018. He was a member of  the Connecticut Hurricanes from 2009 through 2014 and served as an in-line technician in 2014. He was a member with United Percussion in 2012 and the Cadets2 in 2015.  He was on the instructional staff at Cadets2 in 2016 (winners of the DCA High Percussion Award & World Championship) and 2017. 
Ricky has been involved with Connecticut-area high schools since 2008. He has worked with Brien McMahon High School, Shelton High School and Westhill High School. He is currently the Bass Drum Technician at Norwalk High School, a position he has held since 2013. Norwalk Percussion earned back-to-back WGI Percussion Scholastic Open titles in 2014 and 2015.  He's currently in his 3rd year at Stamford High School, and his 2nd as Battery Coordinator. 
Ricky is currently employed by Ventus Networks and Resides in Norwalk, Conn 
AJ Rittenhouse – Snare Technician
AJ Rittenhouse began his marching career at Maloney High School in Meriden, CT where he was a member of the marching band for four years, serving as section leader of the drumline for the last two. He is a senior at the University of New Haven where he studies Cyber Systems and has been a member of the marching band for five seasons, serving as percussion section leader in 2016.
He began his drum corps career as a snare drummer for Fusion Core in 2015. In 2016 and 2017 he marched for Cadets2, winning the DCA Championship and the High Percussion Award in the 2016 season.
He currently serves as a percussion instructor at Maloney High School, a position that he has held for four years. He is excited to be joining the staff at the Hurricanes and looks forward to the great season ahead! 
Anthony Davis – Tenor Technician
Anthony Davis, from Norwalk, CT, entered the marching arts world in 2004 with the Brien McMahon High School Marching Senators. He marched with the CT Hurricanes on tenors from 2009-2011 as a snare drummer with Cadets2 in 2015. 
After graduating from high school in 2008, Anthony worked as a battery technician at Brien McMahon High School from 2008-2013, and in 2014 became the Percussion Caption Head.  In 2016, Anthony joined the Westhill High School winter percussion as a tenor technician. During this same time period, Anthony & his team at Brien McMahon were putting together a brand new winter percussion ensemble. After completing a successful first season, the group is moving in a positive direction. In 2017, Anthony will be with the Stamford High School winter percussion ensemble as a tenor technician, while continuing to build and develop the winter percussion ensemble at Brien McMahon. 
Anthony is very excited to be working with such a great program and is looking forward to giving his all to help develop the percussion ensemble and the entire Hurricanes organization. 
Isaiah Ojeda – Bass Technician
Isaiah began his drum corps career with the Hurricanes in 2008 participating in the front ensemble. He later returned to the Hurricanes for the 2011 and 2012 seasons as a member of the drum line (playing snare and bass).  In 2012, he represented the Hurricanes in a drum set I & E performance at the DCA World Championships, taking home a gold medal.  Most recently, Isaiah spent the 2016 season marching with the Cadets2 bass line, earning The William McGrath, Sr. Memorial Award for High Percussion and becoming a DCA World Champion. 
Not only has Isaiah been a member of the drum corps community but is also a familiar face in the WGI circuit.  Isaiah is a four-time Independent World finalist as a member of United Percussion in 2011, 2012, 2015, and 2016.  He has also taught at Stamford High School and is looking forward to working with the Hurricanes this summer as a returning veteran of the program. 
Kristen Morgan – Front Ensemble Technician 
This is Kristen Morgan's eleventh year being a part of the DCA organization. She started in 2007, playing baritone for two seasons in the Connecticut Hurricanes. From 2009 to 2012, she went on to play in their front ensemble. For the 2013, 2014 and 2015 seasons, Kristen was the front ensemble instructor for Fusion Core. Kristen also taught the front ensemble at Cadets2 for the 2016 season. She marched winter percussion with her high school group, and then later marched United Percussion for the 2012 and 2013 seasons. She taught the University of New Haven Marching Band for the fall seasons of 2013 and 2014, West Hill High School for the 2010 to 2012 seasons, Stamford High School for their 2013 and 2014 seasons, and at Norwalk High School for the 2015 and 2016 seasons. Kristen is currently teaching the front ensemble at Stamford High School.
This will be Kristen's first year teaching the front ensemble for the Connecticut Hurricanes. She is so excited to be back and involved with the Hurricanes family and can't wait to see what this season has in store!
E. Scott Hiser – Front Ensemble Technician
E. Scott Hiser has been involved in the drum corps activity since 1972. As a performing member throughout many seasons he marched with the St. George Olympians from 1972-1975, and as part of North Star's (MA) "chrome wall" from 1980-1981.
Scott's DCI teaching experience includes the Alliance Drum & Bugle Corps, Phoenix, Boston Crusaders, WGI PIA PureFusion Percussion and numerous high school bands in the greater Boston area.
Mr. Hiser most recently worked as a front ensemble technician with the 2016 & 2017 Cadets2, winning top percussion in 2016 and also served as the music coordinator of PureFusion Percussion (2015 WGI PIA Champions), of greater Boston.  He recently served as Director of Percussion Activities for the Salem (NH) High School music department. Salem Blue Devils winter percussion ensemble is a WGI silver medalist group and past NESBA Champion.  He has also served as an instructor and percussion arranger for numerous other scholastic marching bands and indoor percussion ensembles throughout New England. 
Mr. Hiser is part of the Vic Firth educational program and uses Vic Firth sticks and mallets exclusively, as well as Remo drum heads and Zildjian cymbals.
Mr. Hiser studied at Berklee College of Music in Boston, MA and Syracuse University in Syracuse, NY.  He currently lives in Lexington, MA with his wife and son.