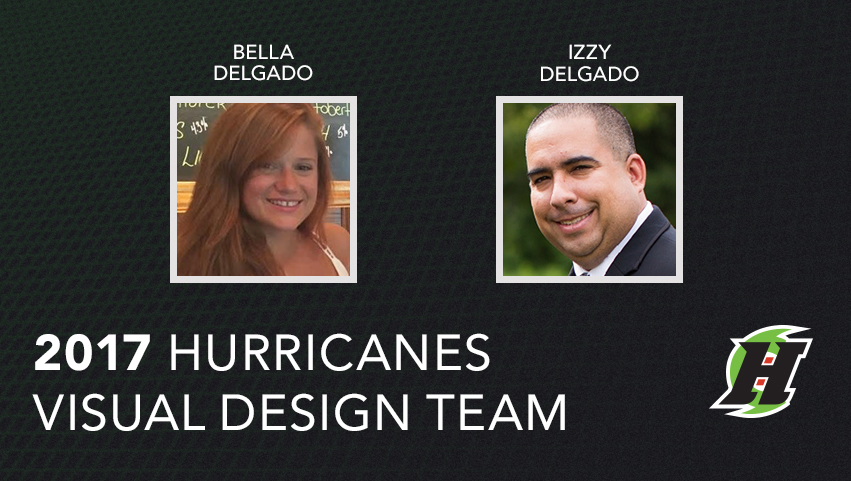 The CTHurricanes are excited to announce their 2017 Visual Design Team.  Izzy Delgado is joining the Hurricanes as the Visual Designer, and Bella Delgado is moving into the role of Color Guard Designer.  Izzy, Bella and the rest of our design team (Ray Fallon – Program Coordinator, Aaron Goldberg – Brass Arranger, Tom Gasparrini – Battery Percussion Arranger, and Matt Hahn – Front Ensemble/Electronics Arranger) are working diligently on our 2017 production, and we're excited to share that with you after we reveal it our members at our 2017 Open House on November 26 & 27.
Executive Director Brian Maroldt said, "I'm excited that Izzy and Bella are a part of our talented design team.  The entire team is working very hard to produce an entertaining, engaging, and competitive program for the 2017 Hurricanes."  You can see the bios for Izzy & Bella below.
Remember, our 2017 Open House is taking place November 26 & 27 at Amity Regional High School in Woodbridge, CT. Get all the details at CTHurricanes.org/Join.
Izzy Delgado – Visual Designer
Izzy Delgado is excited to be taking on the position of drill designer for the 2017 Connecticut Hurricanes. Izzy has been a drill designer and instructor for 20 years. He spent the last four seasons as the drill designer for the White Sabers Drum & Bugle Corps, helping the corps win the 2013 and 2014 DCA Class A Titles and achieve Open Class finalist status in 2015 and 2016. He has also served as the inaugural drill designer as well as visual caption head and coordinator for the Fusion Drum & Bugle Corps in 2007-2008 & 2010-2011, helping the corps win the 2010 DCA Class A Title. Izzy has been the drill designer for 3 of the 5 Class A corps to achieve DCA overall top 10 status (2011 Fusion, 2013 & 2014 White Sabers) and has helped win 4 Class A visual titles. He has also served as drill designer & visual caption head for the Skyliners Drum & Bugle Corps and visual caption head for the Raiders Drum & Bugle Corps.
Izzy has designed for several award winning marching band programs and is currently the drill designer for the Central Square High School Marching Band, helping the band become the 2015 NYSFBC SS2 Class Champions. He also served as the drill designer for the Elizabeth HS Marching Band, helping the band to become 2015 Bands of America Regional Finalists as well as USBands 5A National & NJ State Champions in 2011, 2012, and 2013. Izzy is also the program coordinator and drill / staging designer for the Matawan Regional High School Marching Band and Winter Guard.
Izzy has been an active adjudicator for 16 years and currently adjudicates marching band, winter guard, and winter percussion for the USBands, MAIN, and MAC circuits. He is an alumnus of the Raiders Drum & Bugle Corps and Bushwackers Drum & Bugle Corps. In life outside of drum corps, Izzy is an insurance sales producer with AAA New Jersey Insurance Agency and lives in Old Bridge, NJ with his wonderful wife Elyse & 3 year old daughter Taylor.
Bella Delgado – Color Guard Designer
Bella began performing with perennial Winter Guard International Open Class Finalist, South Brunswick High School in the Spring of 2003.  After graduating, she joined the staff from 2008-2015, where she taught both their marching band and winter guard programs as an equipment choreographer and technician.  Bella rediscovered her passion for performing with the Connecticut Hurricanes color guard in 2014, continued as both a performer and technician in 2015, and was a technician in 2016.  At this time Bella also began performing with Alter Ego Independent World guard, where she was a member in 2015 & 2016.  Along with performing, Bella also served as a movement consultant for Bunnell High School in Stratford, CT.
Prior to her involvement in color guard, Bella spent 13 years training in classical ballet, pointe, jazz, tap, and modern dance.  Bella also was heavily involved in musical theater throughout her life, and has performed in Walt Disney World, Universal Studios Orlando, and Sea World Orlando.  In 2013, she earned her Master of Social Work degree with a concentration in addictions counseling from Rutgers University.  She currently works as a clinical social work supervisor in Fairfield County.  She currently resides in Oxford, CT.

Bella is very excited for the opportunity to work with such a talented staff, and a long-standing organization which continues to encourage growth and pride in the marching arts.