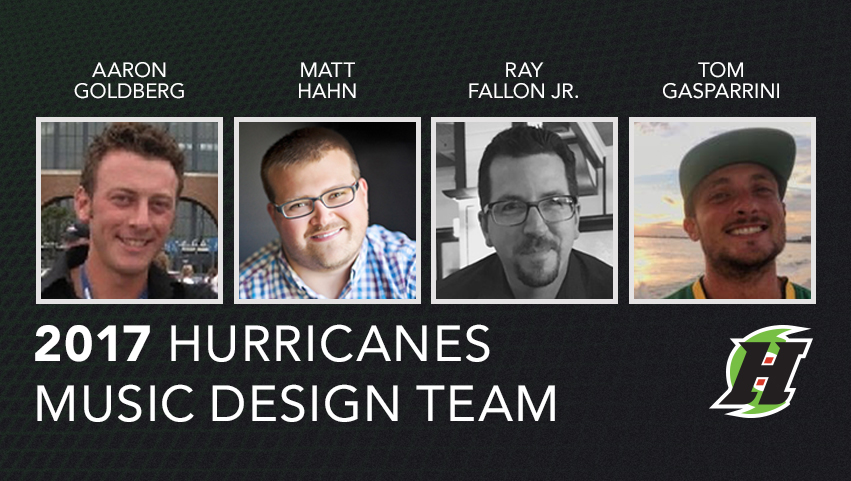 The CTHurricanes are excited to announce their 2017 Music Design Team. Ray Fallon, Jr. is joining the Hurricanes and will serve as the Program Coordinator. Aaron Goldberg, who consulted with the corps in 2010, will be the brass arranger. Hurricanes Alumnus Tom Gasparrini will be the Battery Arranger and Matt Hahn will serve as the Front Ensemble/Electronics Arranger. This team brings a wealth of music experience to the Hurricanes, along with years of success in the drum corps activity. The team is hard at work to design a competitive and engaging program for the DCA audience!
Executive Director Brian Maroldt said, "We're extremely excited about the music design team we've assembled. I can't wait for everyone to see what Ray, Aaron, Tom & Matt put together for the Hurcs in 2017!" You can check out the bios for our Music Design Team below.
Remember, our 2017 Open House is taking place November 26 & 27 at Amity Regional High School in Woodbridge, CT. Get all the details at CTHurricanes.org/Join.
Ray Fallon – Program Coordinator
Ray Fallon is the former Brass Caption Head and member of the design team for the 7th Regiment. Ray oversaw a rapid rise in membership as well as competitive standing for the brass program during his 6 years with the organization from 2009-2014. Ray also worked as an instructor for the Boston Crusaders from 2008-2010 and has worked for various marching band programs in the northeast, most recently with Blackstone Millville High School. Ray has also worked as a guest clinician for the Maine Marching Band Circuit and enjoys working as a consultant and guest instructor for a number of programs in New England.
Ray marched drum corps with the Boston Crusaders first when he was just 12 years old and continued to march for a total of nine seasons. During his years in drum corps, Ray received distinctions for his performance ability, personal growth and dedication to the organization. In his age out summer of 2004 he was honored by his fellow members as Crusader of the Year.
Ray currently resides in Boston and is a music student at the University of Massachusetts in Boston. He has worked this year with Inspire Arts and Music in a community outreach program designed towards teaching music through the Hyde Park Community Center. Ray looks forward to expanding this amazing program to other areas in Boston as it lines up with passion of making the experience of music inclusive and meaningful.
Aaron Goldberg – Brass Arranger
A native of Boston, Aaron Goldberg holds a Bachelor's degree in Music Education from University of Massachusetts Lowell and a Master's degree in Music Performance from Mason Gross School of the Arts at Rutgers University. He has taught music to students from kindergarten through college, and currently directs the Boston University Marching Band, Pep Band, BU Percussion Ensemble, Scarlet Band, Big Band, and Commencement Brass Ensemble, as well as oversees the Band fraternity & sorority chapters on campus (Kappa Kappa Psi and Tau Beta Sigma). He also teaches "Marching Band Pedagogy" in the Music Education Department.
Aaron was a performer in the national touring company of the Tony and Emmy Award-winning Broadway show "Blast" in 2005-2006, performing on euphonium, baritone, trombone, percussion, and voice. He has been involved in the drum & bugle corps activity for over fifteen years, starting as a performing member of the Crossmen Drum & Bugle Corps in 1998, and was later the featured baritone soloist in 2000 and 2001. He served on the Crossmen brass staff from 2002-2010, and has also worked with the Blue Stars, Boston Crusaders, 7th Regiment, Connecticut Hurricanes, and Jersey Surf Drum & Bugle Corps.
Aaron has composed original music for a variety of commercial sources and documentaries, and has arranged music for drum corps, high school and college marching bands, and is the current winds arranger for the Boston University Athletic Bands. He has been a music adjudicator for the United States Scholastic Bands Association and the New England Scholastic Bands Association, and has been a clinician in the marching music idiom around the country. He served as Pep Band Director at Boston College from 2007 to 2009, and was the Director of Bands at North Andover (MA) High School from 2009 to 2011, where he directed multiple instrumental ensembles and taught a variety of classroom music courses. Prior to that, Aaron taught 4th & 5th-grade beginner instrumental music in the Wilmington (MA) and Revere (MA) public school systems.
Tom Gasparrini – Battery Percussion Arranger
Tom Gasparrini is an in-demand instructor, consultant, and arranger in the marching percussion world. Currently he serves as the Battery Coordinator at The Bluecoats Drum and Bugle Corps of Canton, Ohio, and as the Director of Percussion for Bellbrook High School. Additionally, Tom is the Program Coordinator and Battery Arranger at European X of Hilversum, The Netherlands.
Tom's experience as a world-class teacher stems from his extensive performance history. Tom started his independent performance career as a snare drummer in the Connecticut Hurricanes Drum and Bugle Corps. From there he continued on to the ten-time world champion drum corps The Cadets before finishing his drum corps career as the center snare of the Bluecoats Drum and Bugle Corps. Mr. Gasparrini also was a performer in the world-class ensemble United Percussion and was a prominent performer and center snare of the highly successful percussion ensemble Rhythm X.
He frequently teaches internationally, having traveled to destinations such as Costa Rica, Lithuania, Canada, and The Netherlands. Recently, Tom has also travelled to Seoul, South Korea San Francisco to perform with the Tony© and Emmy© award-winning production Blast!. Tom exclusively uses Innovative Percussion sticks and mallets, and Evans Drumheads.
Matt Hahn – Front Ensemble/Electronics Arranger
Matt Hahn is an active designer and percussion educator in the Dayton, OH area. He is currently the program coordinator, music designer, and assistant director of the Lebanon High School marching band and indoor percussion ensemble from Lebanon, OH. He has designed for many award winning groups throughout the country including George Mason University, Connexus Independent, FIU Indoor Winds and Percussion, Lebanon HS, Winston Churchill HS, Bellbrook HS, Westerville North HS, and Freedom HS to name a few. In 2012, Matt founded Resonant Music Design, a company specializing in marching arts design and education of all kinds. You can view samples of his work at www.resonantmusicdesign.com.
Matt was a member of Rhythm X from 2005 – 2008 and has been on staff since the 2009 season. Matt also was a member of the Bluecoats Drum and Bugle Corps from 2006 – 2007 in the front ensemble, and was a staff member from 2009 – 2012. Matt graduated from Miami University (OH) in 2008 with a Bachelor's of Arts in Music Education degree.
In 2013, Matt was elected to the Board of Directors of the Mid East Performance Association (MEPA) circuit and was recently elected as Vice President of Percussion for the circuit.
Matt is a proud sponsor of Innovative Percussion, Sabian Cymbals, and Evans/Planet Waves products. He currently lives in Kettering, OH with his wife Sara and his son Micah.